Some of you may remember this fabulous fabric - Hills of Home - designed by Sheree Davies whilst she was at Massey studying Textile Design. The fabric is produced by the lovely people at
Hemptech
.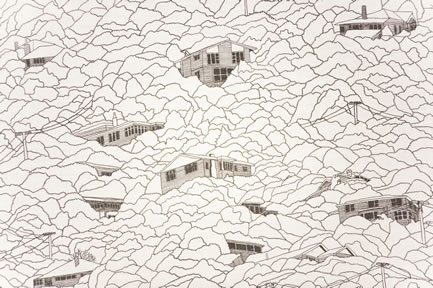 Sheree has been working for
Sensational Floors (SF Design)
in Auckland as their designer - doing amazing work. The 'Lost Storm' is one of her designs.
She is now heading off overseas to experience pastures new and share her talents. This means that there is a position coming up at SF Design. She has asked us to share the following details with all you budding and equally talented designers:-
"The company I work for currently has a vacancy available for a Designer/ showroom assistant. I will soon be leaving my position at SF Design, so i am looking to find somebody to replace me.
The main role in the company is to design one-off, bespoke, hand-tufted rugs in collaboration with Auckland Interior Designers, Specifies and Architects. The briefs can vary from being very restrictive, with the clients having a very definite idea about what they wish to create. To quite open, where the client would like you to take the reins in terms of design, colour etc. We work predominately with Illustrator in creating our rug graphics and a basic/ intermediate understanding of this program is necessary. The applicant would need to be able to work comfortably with colour, scale, composition ad pattern. Rug design can be a fusion of fashion, spatial and graphic design. An awareness of current design trends and colours would be beneficial.
The design role also includes preparing images on photoshop for online marketing, updating the company website, preparing email campaigns and developing in-house rug collections. Your role will also encompass assisting designers & clients in the showroom, communicating with suppliers, creating orders and managing the design resources.
It will be a full time position, based in our showroom in Parnell and commencing early April. If anybody is interested can they please email there cv/ portfolio/ website to
sonya@sfdesign.co.nz
"
Good luck - as for our new designer, watch this space - interviews are over and we are making decisions about who our new team member will be.........